T.E.A.C.H. Graduation Information
Order Your Ring Today With Your Own School Name 
T.E.A.C.H. & YMV Designs Available
Fun Things About Your Ring
Did you know, According to Amy Vanderbilt's Complete Book of Etiquette, the ring should always be worn so that the insignia faces the wearer when his or her arm is outstretched for as long as the wearer is in school; upon graduation, the ring should be turned around so that the ring faces outward, signifying that the graduate has left school and has entered the world.

Now a fun thing to do with your ring is put it on your right hand ring finger so that the insignia faces the you when your arm is outstretched and find special people to take a turn in turning  the ring for a total of 18 times ( for the year that you are graduating which is 2018) leaving  the LAST turn for someone special to turn it for you on graduation day.  Then you will take the ring off and fip it to have it face towards the world to signify you are a graduate!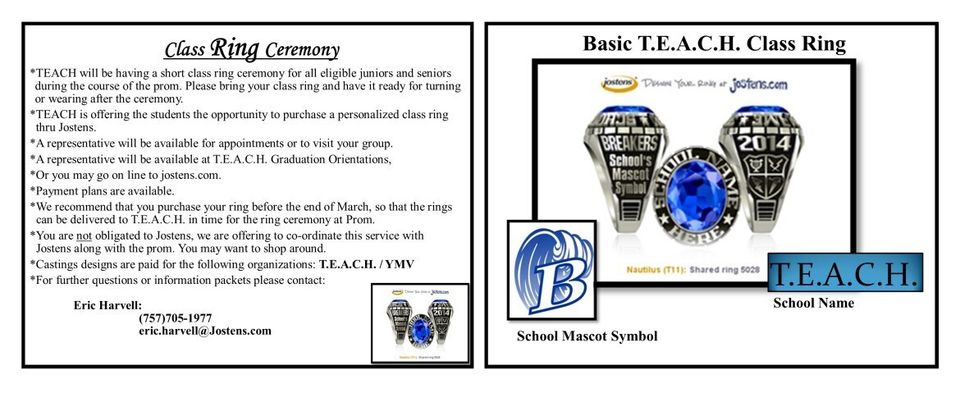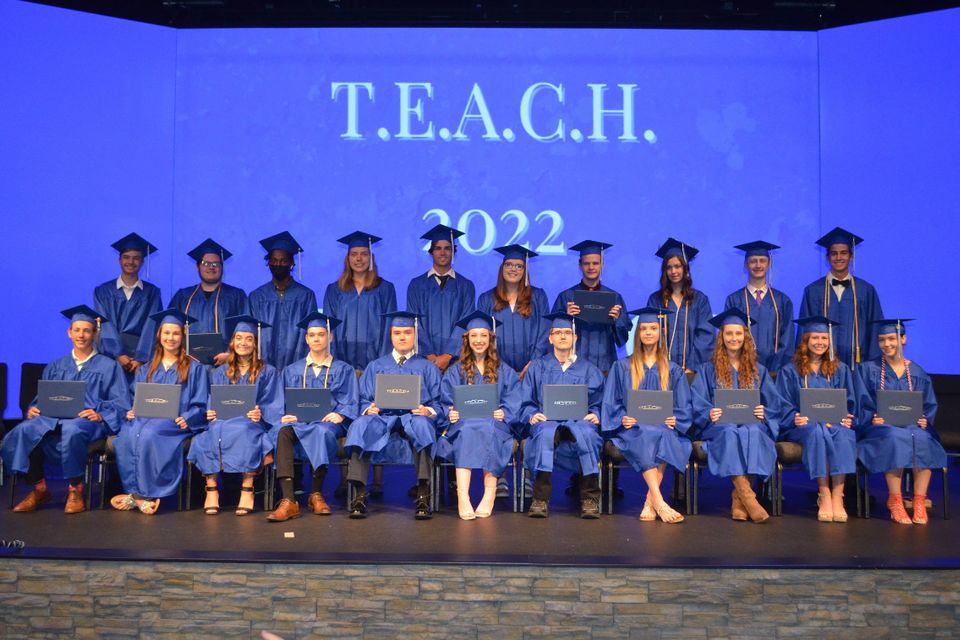 CLASS OF 2022
Logan Riley Alexander
Sean Melvyn Alston
Dawn Michelle Artimisi
Austin Douglas Bare
Kaila Shea Bickley
Simon Jacob Boulden
Gavin Lewis Browning
Tannah Noel
Childress
Aubrey Robert Flora
Holden James Housden
Jonah Reed Howard
Grace Noelle Jarman
Kayleigh Victoria Jordan
Carter Jordan Joyner
Mary Elizabeth Kriner
Carter McClain Mustard
Moriah Joy Newby
Sarah Grace Paul
Hunter Brooks Penley
Paris Elizabeth Adelaide Sherron
Abigail Grace Squires
   
PAST GRADUATE LIST
CLASS OF 2021
Charity Anela Andrus
Leyanah Faye Belangia
Casey Christine Brooks
Leanna Patricia Caldwell
Nathan Ward Kinne III
William Mark Lewis
Joel Nathan Otranto
Ben Franklin Quimby II
Margaret Irene Squires
Kristen Marie Stover
Marshall Andreas Thomas
Jaden Lee Wilson
CLASS OF 2020
Alanya Renee Andrus
Solomon Hunter Ashby III
Sydney Nicole Austin
Brianna Michelle Balmaceda
Hannah Lynn Balmaceda
Joshua Randall Brunson
Naomi Renee Brunson
Megan Marie Canalichio
Cristina Lee Cochran
Holly Kathleen Dennys
Noah Benjamin Drennen
Hattie Noel Flora
Kendall Claire Horne
Rodney Saleem Jackson Jr.
Melvin Alonzo Johnson
Madisen Faith Laguitan
Vincent Trevor Blake Lawrence
Christopher Roderick Mason Jr.
River Joaquin Morgan
Ashleigh McKenna Mustard
Nathaniel Evan Peay
Shatorri Olivia Pickett
Brett Alan Probeiski
Kemit Wayne Spears Jr.
Ava Denae Stevenson
Joshua McCray Thomas
Elijah Shane Watson
Julia Nicole White
Cheyenne Rose Young
CLASS OF 2019
Alaina Christine Albert
James Quanyay Belangia
Kelly Leanne Bryan
Dakota Rae Caldwell
Joanna Grace Crumrine
Roger Lee Carrothers III
Joseph Malachi Drennen
Grace Lael Dunlevy
Gary Lamont Garlic Jr.
Mishay C. Harris
Tajah Howard
Colby Clinton Joyner
Caleb Jonathan Kriner
Micah David Kriner
Alana Victoria Denee' Lawrence
Brianna M. Lewis-Hankins
Kaitlyn Marie Messick
Emily Grace Mongold
West William Van Morgan
Dylan McKay Mustard
Jordan Marie Mustard
Cameron Alexis Parker
David Benjamin Paul
Micah William Paul
Rebekah Joan Pearson
Kailynn Nicole Ries
Liam Jonathan Sherron
Margaret Grace Sweeney
Lily Grace Tomlinson
CLASS OF 2018
Shai'Tesha Jenichelle Bueno
Coree Bryant Campbell
Samuel Shalom Carrothers
Jonathan Lucas Charlton
Azariah Ray Clark
Alicia Renee Cochran
Sara Evelyn Kessler
Victoria Rebekah Kurtz
Kaitlin Grace McCracken
Marisa Angelina Payne
Elizabeth Dawn Spears
Alyaa Stella Stephen
Rachel Elizabeth Waisome
Zachary Alan Watson
Sarah Madelyne White
Sarah Elizabeth Williams
Cheyenne Autumn Wilson
CLASS OF 2017
Janae Raegine Charina Camp
Janeen Courtney Monique Camp
Leah Taylor Castlebury
Rebekah Elaine Crews
Kayleigh Emanuelle Danzy
Cassidy MaKenna Dennys
Cullen Hunter Hendricks
Teddy Dwayne Jay Jernigan
Jonathan Lee Joslin
Noah Warren Kessler
Titus Andrew Kirkpatrick
Jacob Peyton Mustard
Victoria Lynn Newby
Emma-Lee Maria Paul
Kyle Kamalei Powell
Taylor Grace Stairs
Abreana Alyssia-Cheray Wyatt
Lorin Hailey Young
CLASS OF 2016
Skyler Hazel Batton
Ethan Scott Mongold
Grayson McClenny Mustard
Hannah June Paul
Greyson Truman Rome
McKenzie Nichole Stairs
Cherita Cierra Washington
Joseph Maxwell Rider Welsh
CLASS OF 2015
Emily Nicole Boothe
Lauren Ashley Burroughs
Amanda Joy Bussel
Terrell Lawrence Camp
Arielle Lynn Damasco
Mary Kaitlin Ewbank
Brittney Symone Forbes
Charles Edward George IV
Ashley Giles
Grace Liane Harrison
Matthew Marc Kane
Jason David LaMora
Dakota Scott Martin
Jessica Stanley
Marisa R. Tortora
Brandon Kyle Umberger
Christian L. Walton
Skylar Daniel Warren
Verne' Veronica Wine
CLASS OF 2014
Tess Frances Batton
William Austin Franks
Stephen Haskell Gallotta
Evan Mae Hartley
Tamia Denise Nimmo
Marcena Siah Taylor
Trevel Ty Taylor
Ashley Nicole Thomas
Logan Garrett Villies
Caleb James Vlk
Victoria Vanessa Wine Wine
CLASS OF 2013
Kayla Leigh Ansell
Kenneth Wesley Austin
Sierra Oluwa Kemi Austin
Emily Kaitlyn Barker
Jonathon Tyler Bell
Marc Ryan Bourque
Jared Daniel Brown
Kelly Michelle May Brown
Faith Gabriella Campbell
Eileen Nicole Carr
Shonnie M. Davis
Anna Grace Ewbank
Steven Alexander Griggs
Lauren Katherine Hall
Casey Morgan Hamm
Caroline Marie Kuzio
Allison Leigh Kymmell
Savannah Marie Loper
Jessica Lynn Maurer
Caitlin Sofia Payne
Peter D. Romero
Amanda Lindsey Schmidt
Schuyler Ryan Thomas
Danielle Nicole Turley
Armand Vincent Wine